TheraTape Education Center
TheraTape Education Center
Welcome to the Theratape Education Center, the most comprehensive collection of kinesiology taping information on the internet. This area has been designed to provide you with a one-stop source for everything you need to know about this amazing therapeutic tape. Here you can learn how kinesiology tape works, investigate different brands and types of kinesiology tape, print application instructions, watch instructional videos and keep up on the latest kinesiology taping news.
Our exclusive Health Professionals Resource Center contains a wealth of information specifically for health professionals using kinesiology tape in clinical settings. Professional discounts are available to licensed health care providers who register online in the Resource Center.

Certified tennis professionals may qualify for our Tennis Pro Discount Program, offered to teaching pros affiliated with teaching facilities and pro shops. Click here to submit your registration.

Coming Soon!

A special resource area with information related directly to kinesiology taping for athletes.

There are currently 4 major players in the kinesiology taping industry – Kinesio Tex Tape, KT Tape, Rock Tape and SpiderTech Tape. All of these leading manufacturers produce quality products, and while there is some overlap, each brand has also differentiated itself in some way.

Are you a visual learner? Our kinesiology taping videos let you follow a professional, step-by-step, applying kinesiology tape for a wide variety of conditions.


See full list of videos in right menu

Ready to get started with kinesiology taping? Theratape.com is the only online retailer specializing exclusively in kinesiology tape and carrying all major brands.
Relief of Acute or Chronic Pain
Reduction of Swelling and Inflammation
Improved Circulation
Reduced Fatigue in Overused Muscles
Prevention/Relief of Cramps and Spasms
Prolongs and Enhances Benefit of Other Therapeutic Modalities
Supports without Restricting Range of Motion
Prevents Overstretching/contraction of Injured Muscles
Restores Strength to Weak or Injured Muscles
Improves Mobility/Flexibility in Injured Areas
Enhances Muscle Tone in Weak or Poorly Toned Muscles
Provides Therapeutic Benefits 24/7 for up to 5 Days
Testimonials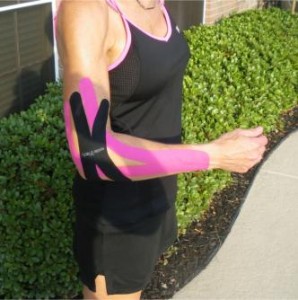 SpiderTech X-Strips for Tennis Elbow Pain
SpiderTech X-Strips from Theratape.com are awesome little pain zappers. Apply the X directly over the painful area and, voila, instant pain relief! I... Read More
Babies with Hypotonia
"My son has hypotonia due to mitochondrial deficiency. At 1 year of age, he still could not sit or crawl… His PT suggested trying Kinesio® Taping,... Read More
Athletic Injuries
"Something better than any laser, wrap or electric massager. The tape…seemed to have special powers. Every morning before the stage, they would... Read More
Read More Kinesiology Tape Testimonials
Kinesiology Taping News
How to Cut and Apply a Fan Strip of Kinesiology Tape
What is a Fan Strip? A fan strip, or edema strip, is a length of kinesiology tape that is solid at one end with 3-4 longitudnal cuts to create 4-6 narrow... Read More
How Kinesiology Tape Helps with Lymphatic Drainage
What is the Lymphatic System? Similar to the circulatory system of blood vessels that carry blood, the lymphatic system consists of lymph vessels that... Read More
Kinesiology Taping for Sciatica and Lower Back Pain
Have you ever suffered from Sciatica?  For those not familiar with this lower back affliction, sciatica usually results from a herniated disc or bone... Read More
Ten Tips for Getting Kinesiology Tape to Stick
Kinesiology tape has many benefits – it helps alleviate pain, reduces inflammation and swelling, improves circulation and lymphatic drainage, and... Read More
A Guide to Kinesiology Tape
Kinesiology tape is booming. Everywhere we look, the brightly colored tape is adorning the skin of athletes, sports enthusiasts, and those of us who want... Read More
Read More Kinesiology Taping News