Add Kinesiology Taping to your Repertoire
posted by Tape Expert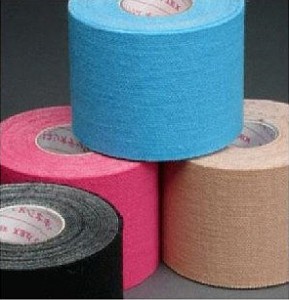 Add kinesiology taping to your repertoire.
Stick to It
By Caitlin Lukacs
American Chiropractic Association News

Think back to the Summer 2008 Olympic Games in Beijing. Remember Kerri Walsh, who won a gold medal in women's beach volleyball? Remember the tape on her shoulder? That was kinesiology tape, and before the 2008 Olympics, the tape could have been considered a secret weapon of the sports medicine field. Now it's much more well-known.
Kinesiology tape isn't just for athletes, though, says Greg Doerr, DC, CCSP, who practices in Cliffside Park, N.J. "The tape was made famous by high-profile Olympic athletes like Kerri Walsh, but it's just as effective on the general population," he adds.
Darren Hancock, DC, CCSP, who practices in Chicago, also credits athletes for the spike in the popularity of kinesiology tape. "This particular kind of tape is utilized a lot in athletics, but about 85 percent of its use is non-athletic," he explains.
What Is Kinesiology Tape?
Developed by Kenzo Kase, DC, kinesiology taping is a therapeutic taping method that utilizes a latex-free elastic tape. Dr. Kase's brand is called Kinesio Tex® Tape, but especially since the Olympics, several other kinesiology tape companies have sprung up, including Rocktape, SpiderTech Tape and KT Tape. Whereas most athletic tape is stiff and is used to hold muscles or joints in one position, kinesiology tape is stretchy—to serve as a gentle reminder to your body to hold your shoulder in a certain way or to keep a kneecap in line while biking or running, explains Dr. Doerr.
According to John Hanks, DC, CCSP, DABCO, who practices in Denver, Colo., there are four main functions of the tape:
Correcting muscle function. Kinesiology tape supports muscles during movement, and research has shown that it can provide a bit more stamina than the muscle alone.1
Improving circulation of blood and lymph. Studies show that the tape increases the flow of both blood and lymph, which can help in the treatment of lymphedema, mastectomy recovery and swelling, to name a few.2
Correcting joint movement. The tape can be used to keep a joint, such as a knee, gliding and tracking smoothly while in use.
Relieving pain. The tape has an analgesic effect, similar to what has been described as the "mother's hand effect."
Because of its many functions, kinesiology tape can be worn both during and after activity. Kerri Walsh, for example, wore the tape during her volleyball matches, and Lance Armstrong wore kinesiology tape on his knee during the Tour de France.
Kinesiology tape also can come with different properties. Rocktape, for example, is designed to stretch and stick to skin better than the original kinesiology tape, which was developed more than 20 years ago. According to Greg Van den Dries, creator of Rocktape, and Steve Capobianco, DC, CCSP, who leads Rocktape training seminars, the company is currently working with researchers at Northumbria University in the United Kingdom to test the effect of the product on muscle and body fatigue, proprioception and performance enhancement, as well as exploring the use of Rocktape for everyday office ergonomics.
Using Kinesiology Tape
Tape worn during competition is applied in the same way as tape used during everyday activities. Additionally, kinesiology tape can be left on for several days at a time and can even be worn in the water as it's water resistant. "Tape should stay on for about one day for pediatric and geriatric patients, and it can stay on for four to five days for the middle-age groups because you don't have to worry so much about skin irritation with them," explains Dr. Doerr.
While kinesiology tape is very effective, it shouldn't be relied on permanently. Experts agree that the tape isn't a cure. Ted Forcum, DC, DACBSP, CSCS, president of ACA's Council on Sport Injuries and Physical Fitness, who practices in Beaverton, Ore., says that the tape should be seen as a component of the rehabilitation process; it is not meant to replace a brace or a cast. As with any intervention, the use and duration of kinesiology tape is particular to each person's individual needs.
Some companies sell kinesiology tape in a roll and others offer pre-cut selections to fit on the shoulder, the knee or the back. The most common pre-cuts are "I" strips and "Y" strips, named for their resemblance to those letters. Oftentimes, the strips will be sold in kits designed to fit on a certain body part or for a specific injury.
Training in Taping
While it is possible to purchase the tape at any time, experts agree that DCs should not just buy kinesiology tape and begin using it on patients. There are courses and seminars offered through the tape companies that teach the principles behind the tape as well as the different taping techniques. You don't need to be involved in the sports medicine field to take a seminar.
"To really understand the full use of the tape, there is a seminar consisting of three weekends of courses," says Dr. Hanks. "Most people who start using kinesiology tape decide to participate in this training." The seminar, offered by the Kinesio® Taping Association, a select group of medical and administrative professionals dedicated to advancing the art and science of the Kinesio® Taping Method through education, clinical practice, research and community activities, is presented throughout the United States and Canada and taught by certified taping instructors (www.kinesiotaping.com).
If you're just getting started with kinesiology tape and don't want to sign up for three weekends of training just yet, Dr. Doerr suggests taking an eight-hour class on pre-cut taping as a first step. All pre-cuts come with very precise directions, particularly when they are in a kit for a specific body part or injury, but the courses will give you the science behind the tape and help you to understand how and why it works, he explains. Dr. Doerr suggests chiropractor Kevin Jardine's training sessions and videos (available at www.nucapmedical.com/training.html) because they give "wonderful explanations of how the tape works and why we apply it the way we do."
KTTape.com also features more than 20 step-by-step color instructions for different taping applications—from shin splints to carpal tunnel—as well as injury-specific how-to videos and tips for applying the tape for best performance. For those looking for hands-on training, the company offers two-day workshops that focus on clinical and therapeutic strategies, preparing the clinician to apply the tape systemically. (Visit www.kttape.com/education for more information or to register.)
Rocktape offers one-day seminars that teach DCs a new functional taping method—one that covers rehab, performance enhancement and pregnancy applications.
(http://rocktape.com/how-to-use). Rocktape is also working on incorporating its tape into the on-site clinics on all three Palmer College of Chiropractic campuses.
In addition to the courses run by the kinesiology tape companies, Dr. Forcum is offering an online training course available at www.sportmedics.com/kinesiologytaping.
Accessible to all health care providers, this 12-hour program features written text and video and covers the most common types of tape applications as well as the principles behind those applications. A future program will focus on the clinical perks and application of pre-cut kinesiology tape.
Teaching Patients to Tape
Because kinesiology tape is multifunctional—and relatively easy to apply, according to experts—DCs can teach their patients how to tape themselves, says Dr. Hanks.
"If there is no problem, but a patient has a permanent injury, such as an arthritic knee, and that knee feels better with the tape on, I'll certainly show him or her how to apply it," says Dr. Doerr. "Or if an athletic patient competes four times a week, I will show her how to apply the tape, so that I don't need to see her every time she has a game," he continues.
References
1. Yoshida A, Kahanov L. The effect of kinesio taping on lower trunk range of motions. Res Sports Med 2007;15(2):103-12.
2. Bialoszewski D, Wozniak W, Zarek S. Clinical efficacy of kinesiology taping in reducing edema of the lower limbs in patients treated with the ilizarov method—preliminary report. Ortop Traumatol Rehabil 2009;11(1):46-54.
Like this information? Subscribe to our newsletter and get loads more!
© 2015 Theratape.com