Kinesiology Taping for Back Pain
posted by Tape Expert
The only thing more numerous than the types of back pain are the variety of options available to treat it. Back pain sufferers typically progress from over-the-counter liniments and pain relievers to manual therapies like massage, chiropractic, decompression and PT. If these don't work, medical intervention may follow in the form of prescription pain medications and muscle relaxers or, ultimately, surgery.  What works for one person may not work for another, leaving many sufferers wondering if they – or their wallets – will ever find relief.
In the last few years kinesiology taping has become a favorite go-to for back pain sufferers as well as many health care providers. Safe, inexpensive and easy-to-apply, it can be used alone or combined with other therapeutic interventions. When applied properly, it can provide relief from painful and common back injuries, like sciatica, herniated disks or simple muscle inflammation. Its thin, elastic material provides safe, comfortable support without restricting range of motion and each application can be worn up to 5 days, providing therapeutic benefits the entire time it's worn.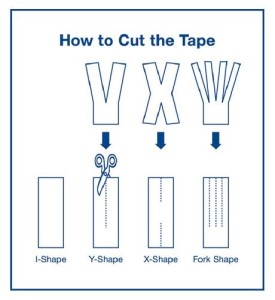 Medication-free, the tape works with the nervous system and lymphatic systems to reduce swelling and bring pain relief to injured or overused muscles and joints.
For the experienced taping professional, strips of tape can be easily cut from a roll and applied in various formations. However, precut kinesiology tape applications can make the process a breeze for even novice tapers.
Here are some recommendations for products and resources to help you get started with kinesiology taping for back pain.
Lower Back Pain
For lower back pain or sciatica try the Kindmax Precut Lower Back Support. Made from one wide piece of tape, it is easy to apply and covers the entire lower back area. Each package includes clear step-by-step instructions.
Mid and Upper Back Pain
This simple application for mid and upper back pain can be easily premeasured and cut from a roll of tape. For step by step instructions, check out this video that uses Perform Tex Tape.
Postural Correction
The SpiderTech Upper Back/Postural Precut application was designed to help correct rounded shoulders and other postural issues in the upper back and shoulder blade area. The following video explains how to apply it for best results.
General Back Pain
The Kinesio Precut Back Application is a collection of strips that can be placed over any painful area, allowing for customized pain relief. This versatile taping kit can help with back spasms, back strain, lower back pain, sciatica, and also provide support for overused or strained back muscles. The following video provides application tips and instructions.
For more tips about taping for back pain, follow our Pinterest board, like us on Facebook, or subscribe to our YouTube channel.