Supercharge your kinesiology taping with negative ions. StrengthTape is made by LifeStrength, maker of the best selling power and balance bracelets now worn by millions around the globe. StrengthTape's power balance technology is created by infusing charged mineral and gemstone particles into kinesiology tape. These natural substances generate negative ions or anions, charged molecules that relieve stress and boost energy. These charged particles are easily absorbed through the skin, making StrengthTape a powerful conduit to introduce negative ions into the body. Negative ions multiply the benefits of kinesiology tape by increasing antioxidants which protect cells from free radical damage associated with overuse or injury. This can lead to greater pain relief and more rapid recovery after intense exercise or injuries.
10% greater elasticity provides additional support for injuries and snap-back for performance enhancement
proprietary AllSport adhesive provides superior sticking power in all conditions, including water
when properly applied, most applications will provide pain relief, comfort and support for 3-7 days
each 16' roll contains 20 precut 10" strips - enough tape for 10+ average applications
Watch Video - Introduction to StrengthTape
How does StrengthTape's Negative Ion Technology Work?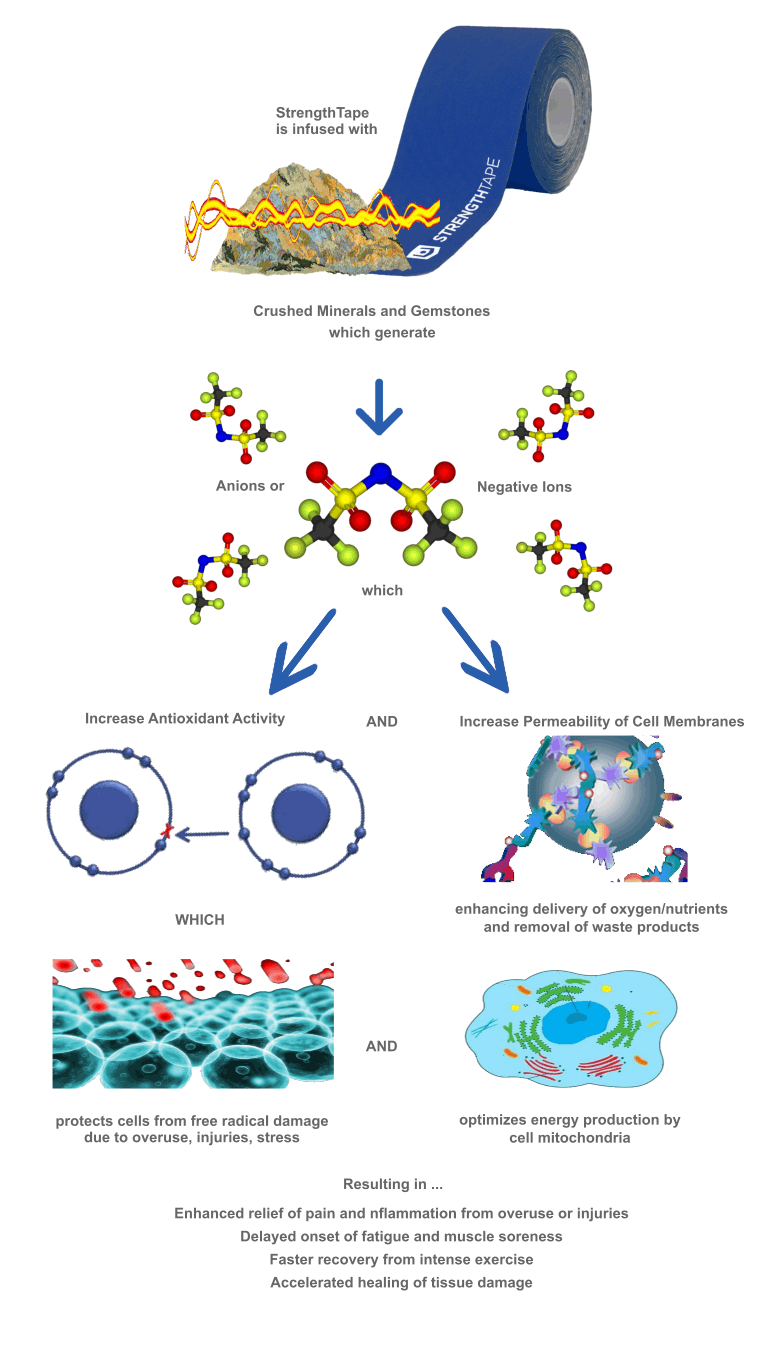 Back to Top ↑
Shipping Information
Our Same Day Shipping Promise
We are proud to offer our customers the best turnaround time in the industry. Barring unforseen circumstances, orders received by 1:00 pm US Central Time, Monday through Friday, will ship the same day. We also ship USPS orders on most Saturdays.Due to UPS surcharges for weekend pickup and delivery, we do not ship UPS packages on Saturdays.
Delivery Times - UPS
Ground: 1-5 business days. No weekend pickup or delivery.
3 Day Select: maximum of 3 business days AFTER shipment date, No weekend pickup or delivery.
2nd Day Air: 1-2 business days AFTER shipment date, No weekend pickup or delivery.
Nest Day Air Saver: Delivery by 4 pm next business day, No weekend pickup or delivery.
Next Day Air: Delivery by 10:30 am, 12 noon or end of next business day, depending on location. No weekend pickup or delivery.
Delivery Times - United States Postal Service Domestic Mail
Priority Mail: 2-3 business days after shipment date, Saturday shipping and delivery included
Express Mail: overnight to major metropolitan areas, 2nd day to others. Guaranteed delivery date. Saturday shipping and delivery
Parcel Post:: 2-9 days within contiguous United States. May be longer for AK, HI and PR. Saturday shipping and delivery.
International Orders
We ship anywhere in the world via the United States Postal Service and UPS. To see international shipping options and prices, simply enter your address in the shipping calculator at checkout to see available shipping methods and prices for your destination.
Delivery Times - International Orders
Priority Mail International: 6-10 busines days*
Express Mail International: 3-5 business days*
First Class Mail International: 2-6 weeks* - although reliable, no tracking is available, so we do not assume responsibility for lost packages.
* The main cause of delays in receiving international orders is customs in your country. Customs may detain any package for up to 30 days without notifying you, regardless of the shipping method selected.
Shipping Charges
Shipping charges are based on weight and distance. Real time shipping calculators are integrated into the shopping cart to provide actual shipping costs based on your destination. You may enter your destination information prior to checking out to view shipping costs and options for the items in your cart.